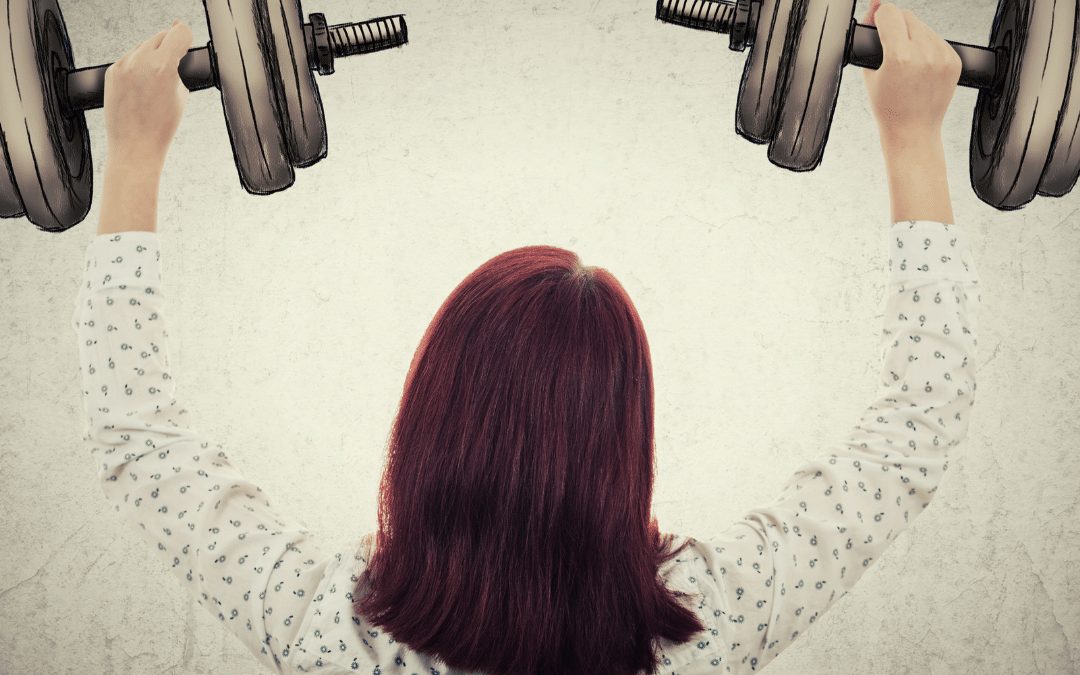 People who do strength training know that micro-tears occur during a weighty workout. A few hours later, you feel the soreness as the amount of blood flow pumping in your body helps your muscle tissues repair. The repair process of these micro-tears is what allows for muscle growth.
Building resilience is akin to strength training. When we face a crisis, a challenge, or an obstacle we also feel a variety of emotions like fear, pain, sadness, anxiety, and anger. The experience of this adversity is like the big workout with the muscle micro-tear. Once it happens, we can begin the process of building our resilience muscle. This approach requires an acknowledgement of your emotions and the accompanying irrational thoughts. More importantly, it also requires a willingness to keep an open mind and examine your next steps.
Your Options
Live with excuses. You can stay stuck in the adversity and allow yourself to use excuses to rationalize why the situation is out of your control. Doing so will not change your situation and it generally keeps you from moving forward in healthy and helpful ways. After all, the definition of insanity is doing the same action repeatedly but expecting a different outcome. It is not going to happen when we are mired in the belief that our obstacles are beyond our control.
C.I.A. Model
Now, there may be aspects of adversity that are beyond our control, and it helps to consider the C.I.A. model.
This acronym represents possible responses to adversity in your life. By applying the C.I.A. model, you can begin the process of identifying where to focus your efforts and break down your options into smaller, more manageable, and realistic chunks. Make a list of what thoughts and situations are weighing down your ability to bounce back and test drive the C.I.A. approach.
C is for Control – your ability to identify the aspects of a situation that you can control or change.
I is for Influence – knowing what elements you can influence, but not control.
A is for Accept – Identifying and finding a way to adapt to things in your life that you cannot control or influence. Accepting involves manage the adversity in ways that positively serve you and do not drain your energy or mental muscles. Accepting what you rationally know is beyond your circle of influence will give you a greater sense of confidence and surprisingly, a greater sense of control.
The Other Side of the Pandemic
As we surface from the clutches of the COVID-19 pandemic, many are left feeling fatigued, disconnected, and uncertain of how effectively their employer will manage the realities of introducing some form of a return to the workplace. This post pandemic work transition experience is yet another challenge to face.
It is human nature to flee from the unknown or freeze when we feel frightened. It is the ancient part of our brain, the amygdala, that continues to perform its job well – to keep us attuned to potential danger or threats to our personal safety.
Holes in a Cup
It is a challenge that requires us to examine our values and beliefs. Do we want more flexibility in where, when, and how we work? What work environment allows up to maximize our potential and minimize distractions?
These questions demand that we consider what we choose to put up with in our lives. When we put up with too much, it is akin to having a cup with small or large holes in it. Each time we put up with something or someone, we add another hole. It becomes increasingly difficult to fill your cup when water keeps trickling or pouring out of the holes.
List Making
Santa is not the only one who benefits from making a list. Here, your list is designed to capture all the things you are putting up with so you can
Use the C.I.A. model to determine what you can realistically control, influence, and accept.
Identify what you can reduce or eliminate so that you can gain a greater sense of control and recoup energy. This exercise becomes your strategic roadmap for recouping energy, positive thoughts and as greater sense of optimism.
In the words of Leonard Cohen, "There's a crack in everything. That's how the light gets in."
Building resilience requires the experience of facing some form of adversity or a crack. It involves a process of reframing the situation and our associated feelings, thoughts, and beliefs so we can let light in. In my next post, we will explore additional ways to build your resilience muscle using cognitive reframing.