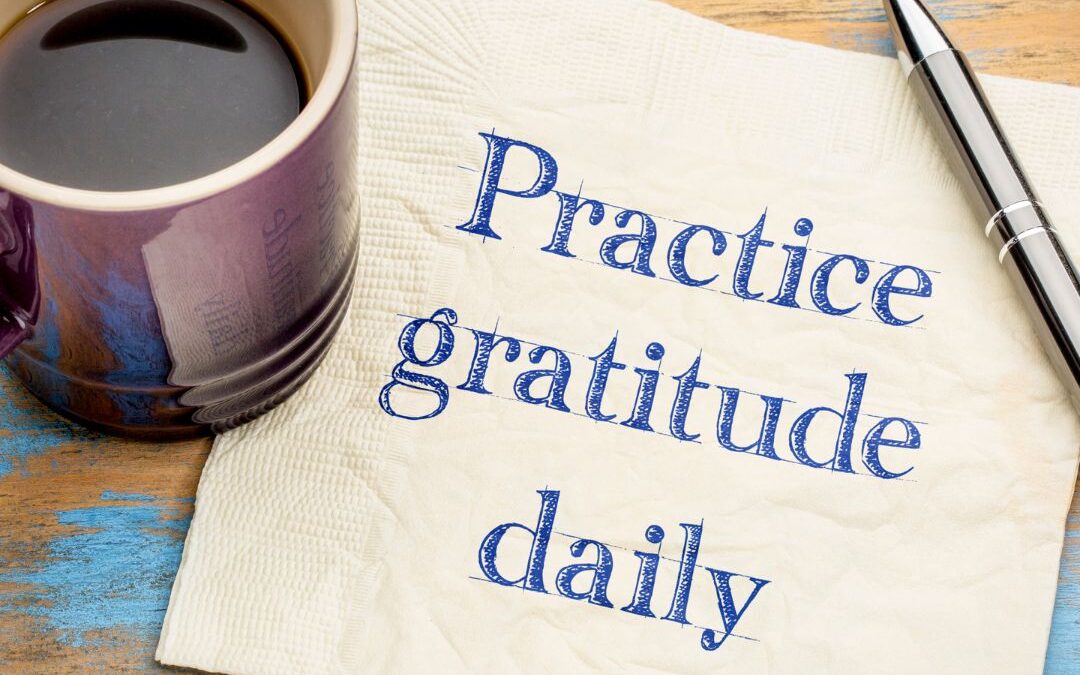 "When you arise in the morning, think of what a privilege it is to be alive, to think, to enjoy, to love." – Marcus Aurelius
This October, our neighbourhoods and walking trails are blanketed in shades of vibrant red and golden yellow. The changing colours are making my daily walks with Olive more delightful, and serve as a reminder that change, though inevitable, is inherently beautiful.
Cooler temperatures mean it's time to take out the cozy sweaters, scarves, and boots. From candles to lattes, the aroma and flavour of fall's finest blend, pumpkin spice, evokes a sense of warmth. There is a much deeper essence to the fall season, however – an invitation to pause, reflect, and cultivate an attitude of gratitude by acknowledging the abundance surrounding us.
Golden Leaves, Grateful Souls
In the midst of fall's beauty, nature teaches us to appreciate the simple gifts each season brings. This sense of appreciation, or gratitude, is that warm, fuzzy feeling we get when we're aware of the good things happening in our lives, and the little things we often take for granted – a hug from a loved one, a compliment from a friend, or the smell of a home-cooked meal. It's about finding joy in the simplest moments, and appreciating the people, experiences, and even some of the challenges that shape our lives.
Suggested Video: Nature. Beauty. Gratitude.
The practice of gratitude has been woven into various spiritual and cultural traditions throughout history. The Stoics considered gratitude a fundamental aspect of a virtuous life. According to Seneca, a grateful heart enhances our sense of fulfillment and helps navigate challenges, making life more meaningful.
"True happiness is to enjoy the present, without anxious dependence upon the future, not to amuse ourselves with either hopes or fears but to rest satisfied with what we have, which is sufficient, for he that is so wants nothing. The greatest blessings of mankind are within us and within our reach. A wise man is content with his lot, whatever it may be, without wishing for what he has not." -- Seneca
Over 2,000 years later, recent research, the rapid adoption of social media, and a growing interest in holistic well-being are fuelling an increase in social awareness around the practice of gratitude.
Neural Nourishment: What Happens Inside a Grateful Brain?
The warm feeling of gratitude isn't just in our hearts – it's in our brains. When we feel thankful, a cozy glow lights up our neural pathways, improving our well-being. Brain imaging studies have found that gratitude activates the prefrontal cortex, the part of your brain responsible for decision-making, complex thinking, and regulating emotions.
Expressing thanks also triggers the release of neurotransmitters like dopamine and serotonin, your brain's 'feel-good' chemicals, contributing to your overall sense of happiness. Researchers at the Greater Good Science Center at the University of California, Berkeley, found that the more we feel thankful, the more our brain produces these chemicals, and the more likely we are to spread our positivity to those around us.
Research has also shown that gratitude is linked to increased resilience to trauma, and benefits to social relationships. It's also connected to our brain's reward system, resulting in lower stress levels.
Suggested Video: Want to be happy? Be grateful.
Turning Over a New Leaf
The good news is that gratitude can be cultivated, and the rising popularity of gratitude journals, mobile apps, and guided exercises is making it easier to incorporate gratitude into your daily routine.
Here are a few simple strategies to try:
Put Pen to Paper: Gratitude journaling is shown to neutralize negative emotional states and improve perceived stress and depression. Setting aside a few minutes at the beginning or end of each day to write down something you're grateful for can help reinforce these positive feelings. It could be something as simple as your morning coffee or as noteworthy as a new job.
Mindful Reflection: Take a moment to appreciate the flavour of your favourite tea, the sound of your child's voice, or the sight of the rising sun. Practicing mindful appreciation enables us to focus on the positive aspects of our lives, even during difficult times.

Volunteer or Help Others: Acts of kindness or service help us gain perspective on our own blessings and enable us to find gratitude in our ability to give back and make a positive impact.

Say 'Thank You': Whether it's texting a friend, writing a thank you note, or sending a gift, small gestures of appreciation can brighten someone's day and deepen your own sense of gratitude and connection.
Are you grateful for the good things in your life – or do you take them for granted? Take this 'Gratitude Quiz'.
Practicing gratitude is a personal journey, and exploring what works best can make it an enriching experience. It's not about pretending difficulties don't exist. Instead, it's about developing a mindset that acknowledges challenges while actively seeking moments of positivity. Even in these smallest moments, we can open ourselves to greater resilience, creativity, and fulfillment in our lives and careers. In this 'season of plenty', I'm grateful for gratitude itself.
Sources
Algoe, S.B., Haidt, J., Gable, S.L. (2008) Beyond reciprocity: gratitude and relationships in everyday life
Allen, S. Greater Good Science Center. (2008). The Science of Gratitude. https://ggsc.berkeley.edu/images/uploads/GGSC-JTF_White_Paper-Gratitude-FINAL.pdf
Kashdan, T.B., Uswatte, G., Julian, T. (2006, February). Gratitude and hedonic and eudaimonic well-being in Vietnam war veterans
Zahn, R., Moll, J., Paiva, M., Garrido, G., Krueger, F., Huey, E.D., Grafman, J. (2009) The Neural Basis of Human Social Values: Evidence from Functional MRI