Our Choices
Each day we are faced with choices. Some decisions are easy and require little, if any, contemplation. Other situations require more conscious and intentional thought. Our choices define who we are and how others experience us.
In my coaching practice, I have the privilege of being a confidential strategic thinking partner for my clients. As such, we talk through the challenging choices and the obstacles that mentally block our path from easily making the optimal decision that we know will serve us, and others, well.
Why is this so hard?
I am known to say in many of my workshops that the concepts I share are simple, but not easy. By this, I mean, that knowing what is right does not make it easier to act upon.
There are beliefs, experiences, fears, and worries that cloud our line of sight and dilute our judgement. This is when connecting to your values comes in handy and a good time to ensure you can find your North Star.
Suggested Reading: https://authentikaconsulting.com/finding-your-north-star/
Your North Star is your why and the purpose that drives and motivates you. Being able to see your North Star makes it easier to make challenging life decisions.
As a part of my leadership workshop series, I invite participants to complete a "TME" exercise. I am sharing this exercise with you in this post.
Core Values
First, let's level set around the idea of core values. Please watch this short video with leadership thought leader, Patrick Lencioni, on core values vs permission to play.
TME Exercise – The Steps
Ensure you have a piece of blank paper and a pen handy. Look at list of core values and select ten of the values that resonate most with you. If a value you want to choose is not on the master list provided, add your own.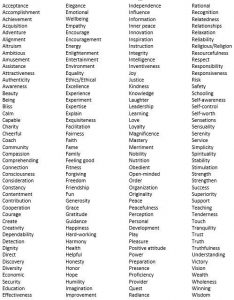 Now, from your list of ten core values, reduce your selection to five core values. This is the hard part. Pick only the top five that matter most to you.These values will represent the ones that you believe are guideposts for how you behave, the choices you make, and how you want to be seen by others.
With your list of five core values, take the next seven days and use the linked worksheet to document your daily actions. For example, if you incorporate exercise into your day, you will list "30 minutes – walking: core value alignment "health". See the worksheet for specific examples and instructions.
The goal of this exercise is to see how much of your daily activities are aligned with your core values. It is a self-awareness and self-reflection tool that you do not need to share with anyone so you can be completely, and brutally, honest with yourself.Perhaps, in some cases, you may find that none of your daily activities correspond to your core values. This exercise is a door you can open to make positive changes so that you can establish greater alignment.
If you have any questions about this exercise or how to complete it, please email me at [email protected]
Should you are feeling stuck, lacking motivation or are not sure how to enliven your values into your daily exercises, please consider taking Authentika Academy's Supercharge Your Motivation e-course. There is also a helpful "Motivators" self-assessment to reveal your values, needs, and influencers that I can share with you to confidentially complete.
There is a lot to think about here. At the ready, I have some easy, quick, and insightful self-awareness tools to help. Please contact me if you have any questions.