Have you ever thought about your life in months? It's a fascinating and perhaps even sobering way of looking at your life.
Recently, I watched a TED Talk with Tim Urban who is one of the internet's most popular writers with his blog, Wait But Why.
In Tim's TED Talk, Inside the Mind of a Master Procrastinator, he offers a refreshing, funny, and honest glimpse into what's really going on when we're dealing with procrastination and distractions -- especially when we don't have a hard and fast deadline. These goals are usually what matters most to us, and what would make the most significant difference, yet they are also the ones we keep simmering on the back burner of our life.
We all procrastinate in one area of our life or another. Understanding what's going on and how to fix it is something Tim describes with wit and sarcasm -- really well done and worth the viewing time!
This 13-minute video will have you laughing and nodding your head in agreement as Tim gets you thinking about the villains you face with such stick figure characters as the Instant Gratification Monkey and the Panic Monster. Tim uses simple illustrations coupled with amazing storytelling to paint a powerful picture about his theory on procrastination.
I am fascinated by how the brain works and the power of our thoughts as it relates to decisions we make and actions we take or don't take. I also teach on the topic of Motivation, Productivity and Time Management. In my self-directed online course called Supercharge Your Motivation, I share how to overcome the Instant Gratification Monkey and how to let the Rational Decision-Maker take back the wheel.
The e-course covers the obstacles or roadblocks that get in your way and cause you to feel frustrated and upset with not moving forward with your goals or missing deadlines along with the negative impact it can have on your life as a result. I hope you'll check it out or contact me for a free consultation to chat about ways to help you overcome the villain of procrastination in your life.
Life in Months or Saturdays
Tim shares the a chart called, "A 90-Year Human Life in Months". He has a helpful blog on the topic so I won't dive into the specifics here, but invite you to read Tim's message instead.  It is a brilliant way to help your brain kickstart the need to let the Rational Decision-Maker do his thing and help you eliminate or avoid the ill-effects of the Instant Gratification Monkey.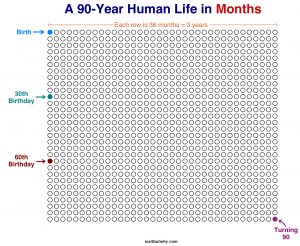 Another visual tool I've used in the past to drive home the point of how to live your life with intentionality and focus is from a website called Your Life Calendar: 4000 Saturdays. It is easier to show you how to use this website, so I entered a random birth date of Jan. 1, 1980 and have taken a screenshot of the calculation.
You may need to zoom in on the screenshot.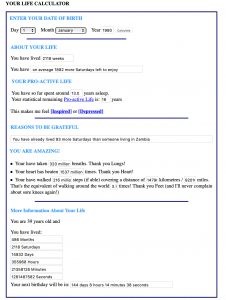 What this calculation reveals is quite something. It shows the number of times you've walked around the earth, the number of heart beats and breaths you've taken and how many years, yes, years that you've spent asleep! When we think about life this way, whether in months or Saturdays it changes things -- at least I hope it does for you too.
How do you want to spend your time?
Imagine if the 24 hours you had in each day was cut in half. How would you spend those 12 hours?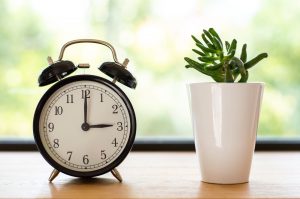 While the Instant Gratification Monkey may be fun to hang out with, he doesn't help you with the things that matter most in life or things you'll remember on your death bed. Gosh, that sounds morbid. Apologies.
So many of my coaching clients have goals they want to accomplish, but struggle with their Instant Gratification Monkey, obstacles that cause them to believe they can't move forward, and the guilt of putting other's needs before their own. There are so many ways to rationalize (or rather "rational - lies") why we don't take action and why the path forward doesn't seem clear.
I would love to help!
What Can You Do?
It comes down to taking some important steps. They are simple, but necessary if you want to stop your Instant Gratification Monkey in his tracks.
Identify your goal and write it down on a cue card you keep on your bedside table. Look at your goal every day.
Make sure you set a realistic deadline -- even if it is one you impose on yourself. Deadlines are key!
Make a list of the distractions that get in your way. It's time to be completely honest with yourself.
Make a list of how you will combat these distractions. You know they are real, so let's make a real plan to deal with them when they surface, which they will.
Take action. Work on your goal even if you don't feel like it. Don't wait for inspiration or motivation to happen. Action leads to momentum and motivation follows. I know it doesn't seem glamorous, but it is effective and it does work.
Especially when you don't feel like it -- set a timer to keep you working for at least 25 minutes. Try the Pomodoro Technique. I describe the process in more detail in my blog post.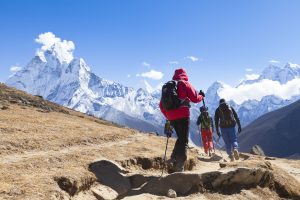 Looking for more helpful tips? Contact me and let's chat. I'm here as your sherpa guide for increased productivity, distraction busting and goal achievement.
Oh...One more free tool to share with you. My Distraction Busters Tip Sheet. Yours to download.
Let me know which of the tips or combination are most helpful.
" You can't do big things if you're distracted by small things." Anonymous